---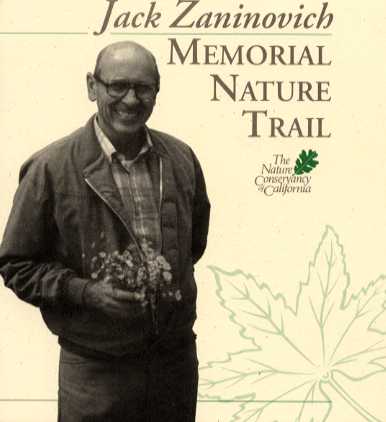 Jack Zaninovich was an amateur botanist and a second generation table grape grower who lived in Delano, California. The Jack Zaninovich Memorial Nature Trail was dedicated to the memory of Jack in the Spring of 1993. The 1.2 mile self-guided nature trail traverses the Sand Ridge and features 22 stations marked by numbered metal stakes. Each station is described in the trail guides available at the trail head. The trail is an easy-to-moderate walk, topping out at the Preserve's crest at 880 feet elevation. The average visitor will take around 45-60 minutes to walk the complete trail. The Sand Ridge is a wonderful and unique spot. It has many fascinating examples of natural wonders waiting to be discovered. Jack loved and treasured this very special place.
Interest in preserving the Sand Ridge, with its rare Kern Cactus and spectacular wildflower displays, began in the late 1950s. Jack was instrumental in aiding the purchase of the property by The Nature Conservancy in 1965. In 1984, the National Park Service U. S. Department of the Interior gave it the designation of National Natural Landmark in recognition of its unique botanical values. The lands were transferred to the Center for Natural Lands Management in 1997.
The Sand Ridge is located southeast of Bakersfield at the foot of the Tehachapi mountain range and winds along the northwest bank of Caliente Creek, an intermittent stream with headwaters in the Sierra Nevada and Paiute Mountains. The Sand Ridge is a 275 acre parcel that stretches over a mile long and one-half mile wide.

Visit the Center for Natural Lands Management website for more information about the Sand Ridge. Also on that website is information about the Pixley Vernal Pool Preserve which Jack purchased in the early 1960s and transferred to The Nature Conservancy in 1964.
Additionally, see The Cactus Patch - the Newsletter of the Bakersfield Cactus and Succulent Society for more information on the Sand Ridge and it's plant life.
---